About the Author, Lore Rasmussen
Born in Germany, Lore May Rasmussen completed her graduate studies
in education at the University of Illinois where she met her husband, Donald.
Mrs. Rasmussen was Assistant Professor of Elementary Education at Talladega College, Research Associate with the University of Illinois Arithmetic Project, and Visiting Associate Professor of Education at Temple University. She developed the Miquon Math Lab Materials during her eight years as teacher and math specialist at the Miquon School, Miquon, Pennsylvania.
During her life, Mrs. Rasmussen served as math workshop leader and speaker for numerous school districts, universities, and professional organizations. In 1976, she was presented the John Patterson Award for Excellence in Education by the Philadelphia Citizens' Committee on Public Education for her work as director of the Learning Centers Project of the Philadelphia Public Schools.
"At the base of Lore Rasmussen's system is the understanding of a child's mind. 'In a small child, mathematical intuition is often far more advanced than his language to express it,' she says. 'A child can solve a problem far earlier and with greater speed than his flow of words allows.'"
– From a 1961 Reader's Digest article by James Stewart-Gordon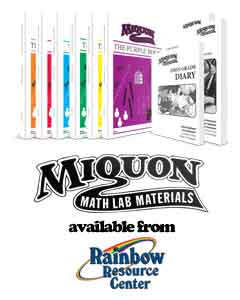 Rainbow Resource Center
Interested in more homeschool/educational resources and helpful information?